Advanced flow principles and recreating the hydrodynamics of the reef environment
Over the last decade, there have been few aspects of modern reef-keeping 'apart from chemistry' that have received as much attention as 'hydrodynamics'. Or more simply put, the action of water as it flows around the aquarium, and the various methods we employ to produce it within the confines of our systems. From the smallest Nano-reef to the largest public aquariums, we frequently hear recommendations about 'X' times flow per hour, wave simulation, tidal simulation, surge control. And a whole host of other fanciful terms to relay what we are trying to achieve. Frequently though, it is all too easy to get wrapped up in the various recommendations banded about, so much so, that we loose sight of what the original goal was in the first place. Which was to create as accurate a representation of wild conditions as we can feasibly apply, in our rather limited volumes of water?
When we look at coral reefs in the wild, we already accept that they are supremely diverse and dynamic environments. If we look closely, we may even consider that no two reefs or even 'sections' of a reef are even remotely the same, with each square meter seemingly infinitely different to its neighbour. But to understand reefs in their entirety, and to take on board both the major, and minor factors that determine what breaths life into a coral reef, we need to step back a little from that macroscopic view we become so accustomed to, whilst looking through the front panes of our relatively diminutive salty puddles, or at still images on the internet.
Although loosely related, we will steer clear of hard core chemistry issues over the course of this article and stick to the subject at hand. Suffice to say that as you will no doubt be aware already, circulation' is essential for all marine life to one degree or another, and most definitely to sedentary organisms that rely on the prevailing currents to not only bring food, but also replenish, and remove respiratory gases, mucous secretions, and provide a constant stream of other chemicals essential for growth and reproduction. Additionally, these organisms rely almost totally on the prevailing currents to spread both sperm and eggs at times of reproduction, so that any given species may thrive and populate new areas.
So what is 'current', and what does the term 'Hydrodynamics' really mean. Well simply put. In aquatic terms, 'current' is the movement of water from one location to another. Hydrodynamics is the 'nature' of that movement, be it on a large scale, miniature, fast, slow, constant or pulsing in form.
One of the most common quotes in the marine hobby is that all too readily banded theory, that flow within a reef aquarium should be as random as possible. Remember our aim is always to replicate as feasibly as possible 'natural' conditions, so that our animals will both behave and grow as they would in the wild. As with most things in nature, there is usually some semblance of order underneath that chaotic surface layer we are so used to seeing. Therefore, our logical starting point is to look at natural coral reefs.
The major players.
First of all, let's step back a little, no further, much further…right, that's better. At this point, you should now be looking at the earth from quite a high altitude, if not from space. What do we see? well a lot of water for one, but look at the globe with different eyes and we see some surprising actions going on across the surface of its vast oceans. Satellite thermal imagery of our oceans combined with a worldwide network of persistently monitoring research buoys, shows us that whilst varying slightly in velocity dependant on the oceans vast weather systems that help drive them, predominant surface currents, actually follow pretty consistent and predictable paths across the globe 24hrs a day, seven days a week, 365 days a year, and have done so for millennia only occasionally shifting path in the event of a global climate change.
This consistency also includes tropical regions around the equatorial zone, that are home to the vast majority of the worlds coral formations. If we look at key areas, we can see that there are currents running across all these regions that flow consistently from a given direction all year round. The main factor in creating these surface currents is heat energy from the sun warming the upper water layers of all the main ocean basins called 'gyres', plus assistance from wind friction as it passes across the surface. Likewise, these winds are also generated by convectional forces born of our suns radiated heat. As an example of these perpetual currents. The Great Barrier Reef receives its main water flow from its northern end, travelling down its length to its southern reaches. The Maldives receives its water from the south, flowing upwards towards the north east and then away to the west in a huge arc. And Bali has two opposing currents, with water being pushed downwards between Borneo and Sumatra, then down through the Java Sea in a south easterly direction across its northern shores, whilst getting a somewhat opposing flow from the Timor Sea across its southern shores which runs east to west. In fact nearly all reefs have a 'predominant' and consistent flow that runs 'along' the length, rather than strait towards the reef front. This is largely to do with the fact that surface currents intercepting with land masses have little choice but to be deflected along the path of least resistance, i.e. along the shoreline and away from the trailing pressure front. This is much like when water from a powerhead hits the front pane of your tank, and then travels across it, pushed by more water from behind. If we were to talk about volumes, then we are talking not just millions, but 'billions' of gallons of water passing any given area of any chosen reef every hour of every day, of every year. Putting that into perspective, it's like doing a 100% water change on a 6x2x2 reef tank, every 10-30 seconds. That's a lot of water movement.
So what does this mean to you, the reef-keeper? Well, simply put, it means that contrary to what we may believe from observing wave action at the surface. Most coral reefs do indeed have an ambient 'underlying' flow direction that is largely unchanging in nature.
When we look at waves crashing against a shoreline we imagine there is nothing more than chaos at play. But much like any open body of water, what's happening at the surface, may only bare a minimal resemblance to what's happening a meter below. Despite the fact that winds may change direction and velocity from one day to the next causing varying wave patterns and forces at the surface, the underlying current direction caused by large scale oceanic convection, will remain pretty much the same, day in day out, year in, year out. This can easily be seen if snorkelling off the front of a reef crest in calm weather. Despite the lack of wave force, you will still get pulled steadily along in the underlying current, as it pushes its way along the front of the reef slope. Dependant on the surrounding geography which may include neighbouring islands or landmasses, this flow may be sedate, or compressed into moving faster. We give the term 'laminar flow' to this type of motion. In essence we are talking the smooth and consistent motion of fluid regardless of its velocity, in a constant direction and at a reasonably constant speed. Having little if any turbulence.
Less constant but equally impressive in force and scale, we then get to 'tidal' forces, i.e. those generated by the Luna cycles and gravitational pull, which causes the mass movement of water towards the side of the earth nearest the moon. And at the same time an equal shift to the apposing side of the planet. Depending on the phase of the moon, these forces and the subsequent effects of tidal shift can vary from place to place. Added to this is bathymetry (the contour of the land masses and surrounding ocean bed) which means that tidal depth change, or 'surge', varies from one location to another even within a fairly short distance of a few hundred miles. For example, a shoreline that has a long, gently sloping contour will have a more aggressive surge, than one that has a steeply angled contour such as an atoll. Even the 'number' of tidal shifts within a 24 hour period can vary according to location, with some having two high tides, whilst others only have one. In relation to reefs, this action has tremendous influence as massive volumes of water are shifted in and across the reef crest to the reef flat behind during the incoming tide, and visa versa as the tide turns and withdraws. Many a snorkelling reef keeper has noticed its far better to go snorkelling during the low tide phase on fringing reefs with a back lagoon, than it is during the incoming tide phase, because sediment gets stirred up with water rushing into the lagoon area causing reduced visibility. Once the tide has reduced to the degree the reef crest has formed a near surface wave barrier again, visibility returns to normal as the flow of water subsides, and sediment falls back out of solution in the more relaxed conditions between phases. Any suspended sediment that makes its way back out to the front of the reef with the outgoing tide, is quickly washed away and down the coast with the long shore currents, leaving the reef clear again. Unlike long shore oceanic currents, Tidal Surge is on the whole a 'direct' incoming volume of water that runs at 90deg to the reef front travelling towards, up and over to pass into the Lagoonal areas behind. The volumes of water moved by this force can be tremendous. With millions of gallons of sea water shifting through and across the reef over anything from 12 down to 6 hour intervals. From a corals point of view, this type of water motion has a similar effect to laminar flow. The only difference being that in this case, the flow periodically reverses on itself by 180deg to flow in the opposite direction as the tide turns with a short period of turbidity in between each cycle.
Our third and most complex force is wave action, which is a science in itself by rights. To understand waves, we must first break the myth in that a wave is a 'moving' body of water. It isn't. It's actually a moving pulse of stored 'energy' travelling through the upper layer of water. Its strength and effect are directly proportional to the forces that generate it, which in the oceans case, is predominantly wind. When air passes across the surface of water, the friction (drag) generated, transfers energy to the surface of the water causing water particles to move forward in compliment to the frictional force. As energy grows, these particles start to move in a circular motion as particles behind are pushed 'up and over' them. With increasing energy input (wind) the amount of friction generated, grows to a point where a wave is slowly formed. It is this rolling body of energy that we see travelling across the surface as a wave. Equally, the temperature of air passing across the- surface will have a greater or lesser effect. The cooler it is, the greater the effect as cold air is heavier than warm with a resulting rise in surface friction.
Diagram 1: shows how water particles move under influence of this energy wave, as it passes overhead.
1.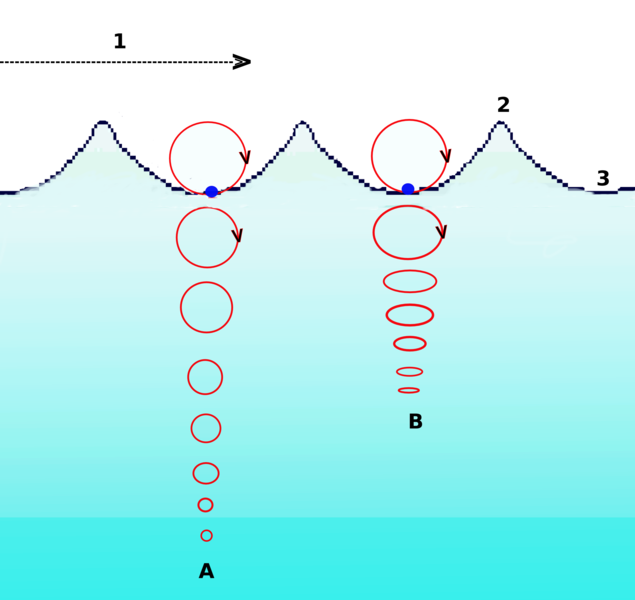 A particle motion in an ocean wave.
[Soft Break]A=In deep water.[Soft Break]B=In shallow water. The circular movement of a surface particle becomes elliptical with increasing forward momentum as the pressure wave is compressed.[Soft Break]1= Progression of wave[Soft Break]2= Crest[Soft Break]3=Trough
As the wave passes, water particles are moved in a circular motion on a vertical plane of axis. The amount of motion is directly proportional to the distance the particle is away from the wave itself. With greater depth, the influence decreases to the point no effect is felt. Equally, it should be understood that a particles motion at the surface, doesn't follow the same wave. Its forward momentum is an accumulation of several circular motions as it is transferred through that orbit from one wave crest, down to the trough and back up to the next wave crest. In essence, the forward motion of any given particle is far less than that of the visible wave. It is only in shallow water (
that we see an increase in the velocity and forward momentum of a given particle, as the pressure wave is compressed into an elliptical orbit against the rising substrate. At this point the trough speed and width is reduced by drag, whilst the crest carries on at the same speed, eventually the wave 'breaks' and forms its typical white crest as it falls into the leading trough.
This is an important factor for us to consider. Because unless you are keeping corals and animals that are normally found right at the top of the reef 'on the crest' then chances are, that water or 'particle momentum' created by wave action at greater depth, may be far, far less than we would at first assume when looking at the images of waves passing over the top of a reef. The areas we commonly identify as the reef-crest which shows the most turbulent wave action, can in fact be some distance behind the more tranquil areas where many of our reef inhabitants actually come from. I.e. the reef slope proper, which is commonly, inhabited by branching Acropora's, plating corals such as Montipora's and Millipora's, and a few LPS. It's in this 2-10 meter range that we commonly find our most regularly imported species, leaving the more robust encrusting and short branching corals such as A.Humillis and Porites fighting for existence in the high energy and violent environment of the upper reef crest.
When we look at most modern methods of creating wave action in reef aquaria. We are limited by the fact, that unlike the ocean, we only have a finite span of water available to generate a wave before it hits the other end of the aquarium and rebounds back, to offset the following wave. We also have an inherent problem with depth dissipation. What we commonly end up with, instead of the circular 'rolling' particle motion, is nothing more than a simple forward and backwards equal motion of the particles in a horizontal plane. This is much like the 'in and out' motion of tidal surge, but on a super condensed time scale of just a few seconds, rather than hours in either direction. If we were to tie together both wave action, and tidal surge, we end up with a pattern of steps that can easily be observed again by snorkeling in the ocean. When the tide is coming in, Wave action will give water particles their usual circular trajectory moving forwards bit by bit with each wave. But joining this motion is the incoming tide which adds a further push, forwards and across the reef.. In effect, we get two steps forward, one step backwards motion. As the tide turns, the effect is reversed somewhat to a two steps backwards, one step forward motion as the forward trajectory of the water particle is offset slightly by the receding tide. Although both of these 'step' systems are variable, dependant on the force and size of the wave action, they still serve as a good benchmark to set flow patterns by and demonstrate the inaccuracies of many modern wave simulation methodologies..
Our final type of current is 'random' or 'turbulent' flow, which is generated by a combination of the above 3 major forces, and its interaction with the irregular structure of the reef itself. As water is forced by either wave, tidal or oceanic current towards and along the reef, it will try to take the path of least resistance, that being either around, or over. The irregular contour of the reef structure 'including the attached coral's creates a drag zone 'around' and just over its surface, much like the dimples of a golf ball, but on a much larger scale. Following water flow is then pushed up and around this layer to pass by unhindered at its original rate. We call this layer the 'bottom boundary layer'. Not to be confused with the boundary layer we commonly associate when talking at a microscopic level. This layer can be from just a few inches thick, to several feet deep in the case of a very convoluted and rough reef structure. It's the reef structure and corals themselves in many cases, that cause turbulent flow patterns as water passes by, forming both pressure and velocity increases at the leading edge of the coral and its sides, and turbulent suction vortices behind, similar to the drag induced vortices behind a car in a wind tunnel. These vortices which move around the coral as the tide turns, are what help in gaseous exchange, slime removal, and the clearing of detrimental accumulations of loose sediment that would otherwise smoother the corals quite quickly. When it comes to replicating this scenario within the confines of an aquarium, life couldn't be easier. The moment we move water around the tank, these areas of turbulent 'deflected' flow are naturally created for us by the corals themselves, dependant on the velocity of water as it passes across and around the corals. Diagram 2 shows this feature in action.
2:
1.Wave driven water particle trajectory.
2.Boundary layer limit
3.Turbulent zone / vortices caused by drag
In the event of a changing tide. The flow reverses, causing a shift in turbulence zones around, and to the opposite side of the corals as water passes in the opposite direction. Although wave action will still induce rotational particle motion towards the reef, the underlying flow will be determined by the volume of water exiting the area with the falling tide.
NB: Not accounted for in this image, is lateral long-shore oceanic drift.
When we combine these four principles of water movement, we have what forms the basis of understanding and ground rules for what we are trying to achieve within the confines of our reef aquaria. In the second part of this feature, we will be covering the methods and technology available to the reef aquarist, and how to put those principles into practice, avoiding that age old X times flow trap.
References:
National Oceanic and Atmospheric Administration (NOAA). Dr. Stephen Monismith.
Naval Research Laboratory (NRL) Function and particle motion within a wave.